Dear ones…
we are doing everything in our power to operate in the safest, healthiest and most compassionate ways possible.
The studio instilled a stringent hand sanitizing policy On February 28th. (this policy will likely continue, forever)
As the recommendations of our Governor, the WHO, NIH and CDC are evolving daily, we are also evolving… here are the latest steps we are taking to keep us all healthy.
#1 Come to class. Yoga is beneficial in soooooo many ways, however, if you are practicing "Social Distancing" now is not the time to start your yoga practice (it may cause more stress than benefit if you're worrying about it)
#2 Sanitize/wash your hands. Immediately after you take your shoes off on the steps. Before you touch ANYTHING and after class.
#3 Stay home if you're at all sick (even "allergies")
#4 Heat will be left ON… ie, possibly warmer than our normal classes.  (we believe that FIR heat is beneficial to immune system and detrimental to virus and bacteria. "We" are not medical professionals, but have read multiple peer reviewed studies for over 10 years on the benefits of FIR as well as MUCH anecdotal evidence to the health benefits…it is why this studio EXISTS)
#4 NamaSlay will not use blocks or bands.
#5 We recommend you bring your own mat and or block (if you need one) rental mats and blocks will still be available, but you will be asked to wipe BOTH sides with Clorox wipes after class.
#6  For Members… we will be offering classes online as soon as we possibly can!

We are calm. We are smart. We are doing our best to keep you safe. 🙏🏻💗
Namaste, Nicky and all the Instructors at Hot Yoga Helena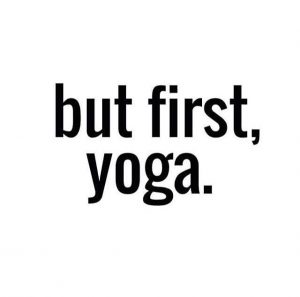 Share